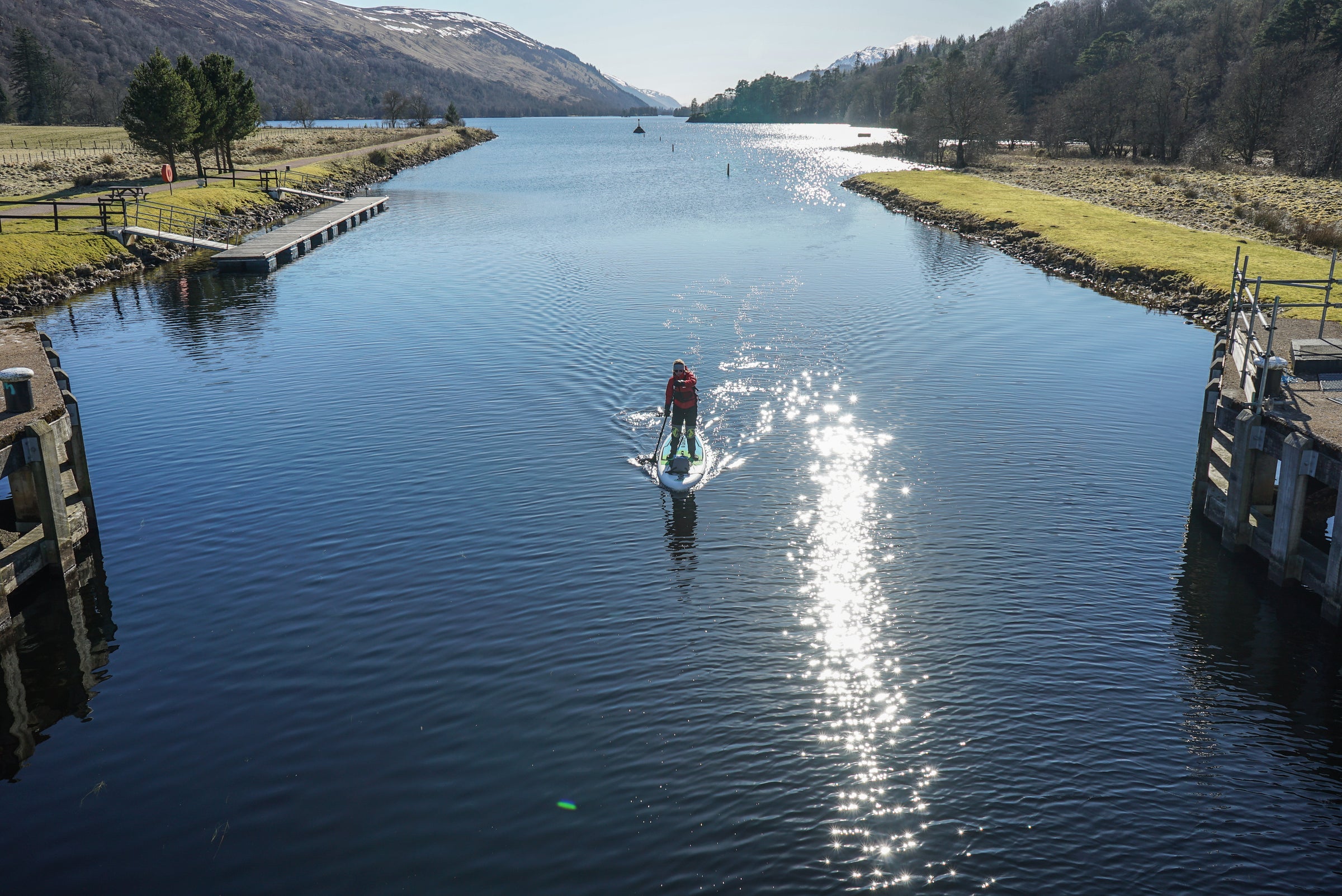 So, you've got your paddle board, but where can you go with it?
Getting Out on your Paddle Board
A paddle board opens up a world of exploration and adventure possibilities. You should start by learning how to paddle board safely. Do this in a safe local location or try out some paddle board lessons.

Then, when you are confident, you can go on some more adventurous paddle board trips. But where in the UK can you paddle a stand-up board?
FAQ's
Here are some frequently asked questions around the theme of where you can paddleboard in the UK.
Where can I go paddleboarding in the UK?
Different forms of water require various abilities and understanding. Some also call for permits or waterway licences, but we'll talk more about that later. Here are some examples of the different sorts of water you can paddle board on:
Lakes
An excellent place to start is on the calmer waters of a lake. Starting off by staying close to the beach will keep you protected from the elements and ensure that you can return to land quickly in case of an emergency. Most lakes are privately owned so always check launching permissions first.
Canals
Despite often appearing to be still, these often have a flow. You may view the city and the surrounding area from a unique angle from canals. Because some canals have high sides, be mindful of other users and consider where you will get on and off the water. Always pass oncoming traffic on the right.
Rivers
The UK is fortunate to have many stunning rivers. Once again, it's crucial to know where you will enter and exit. Checking the water flow and levels in the area where you're paddling is also important. A river flow can swiftly and significantly shift due to rainfall.
Tidal waters
The sea and tidal estuaries provide you some fantastic paddling experiences, particularly if a curious seal joins you. They also necessitate additional planning and getting ready. We wouldn't recommend getting on the sea until you've learned how to paddle board safely as the tides and offshore winds can be dangerous.
Do you need a license to paddleboard in the UK?
Most inland waterways require that paddleboards be registered or licenced with the navigation authority in charge of the channel you intend to use. Typically, navigation authorities issue licences for a range of time frames, often from only one day to a whole year. Membership of British Canoeing will include a licence for most accessible inland waterways.
Can I paddleboard anywhere in the UK?
Once you have a licence, you can paddleboard on almost all the waterways in the UK. However, you should always check local restrictions. For example, paddle boarders are not permitted on the waters of the Bridgewater Canal or the Cromford Canal.